On Track To Disrupt Traditional Construction Management – Syed Ahmed, OnTraccr
For Syed Ahmed, launching his own startup was just a question of time. While working for Cisco Systems and Philips, he realized he was "not a big company guy" and embarked on building OnTraccr Technologies with two co-founders. In June 2022, this construction workflow automation platform secured $400,000 in pre-seed funding.
Turning Childhood Passion Into a Career
Syed Ahmed always loved designing and building things. At ten years old, he created a line of colouring books and sold them to his classmates. "Creating something out of nothing more than an idea, seeing it come to life and also become a functional tool that you can give to somebody — that's always what's motivated me," says Syed. Not surprisingly, when the time came, this encouraged him to study electrical and computer engineering at University of British Columbia. 
Right out of school, Syed transitioned more into business and sales. After completing co-ops at several startups, he landed a job at Cisco Systems and then joined a healthcare tech startup, Blue Willow Systems. Blue Willow Systems were building an IoT and wearable platform for senior living facilities within the healthcare industry. The startup ended up being acquired by Philips, where Syed spent a couple more years integrating the startup within the global Philips business unit and leading teams across many different departments.
However, after some time, he started questioning whether the big company corporate environment was something he wanted. "I'm not a big company guy, I think that's what I've learned in my career. Nothing wrong with it; it's just not my thing. So after a few years at Philips, I was looking for the next challenge and asked myself: which startup can I build next or help build next"?
Bringing Innovation to the Construction industry 
In his career, all of the startup experience that Syed has had has been in the laggard industries — the large and essential industries for the economy that are slow in adopting technology, for instance, agriculture or healthcare.
Syed realized that trying to bring innovation to these massive industries that everybody depends on was something he liked the most. "Blockchain and metaverse is great, but with every new advancement in technology, there's always a large group of people that aren't quite there yet. And they need a lot of help. So I wanted to target those areas, and that thought led me into construction shortly after healthcare." 
Syed was lucky to have the right people around him to build his core team. Jas Nijjar, COO & Co-founder, studied with him at UBC and introduced the challenges of the construction industry to Syed. Whereas Shane McNamara, CTO & Co-founder, worked with Syed at Blue Willow Systems. Like Syed, Shane wasn't the biggest fan of big companies and was glad to start something of his own.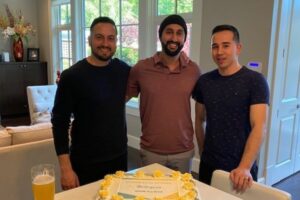 OnTraccr founding team left to right: Syed, Jas, and Shane
Pivot From Field Management to Construction Workflow Automation 
The team interviewed many construction companies to uncover the most significant pain points in the industry. First, the entrepreneurs decided to work on a field management app focused on time tracking and pursued that strategy for a while. But the more they talked to different people, the more they doubted the initial idea and uncovered the real opportunity in the industry.
"It was almost like we knew we were wrong with our initial idea, but we didn't want to face it. So we delayed the process, but time is money, and every day of delay we were losing it. The sooner you can take a real hard look at what the market is telling you, the better. And if the signs aren't good, it is still fine because there's no such thing as failure. All you're going to do is learn, adjust, and keep iterating until you hit the mark and find what people actually want." 
The continuing talks with industry professionals helped the team to form a new product idea: to build a construction workflow automation platform. "We wanted to automate all the stuff construction companies hate doing so that the businesses could focus on what matters most — the actual physical construction work."
The team planned to sell its solutions to construction contractors whose primary goal is ensuring their projects are on track. By combining those two concepts, they found a fun way to name their company: OnTraccr Technologies.
OnTraccr is on a mission to automate how construction is managed, providing next-generation workflow software to help construction contractors automate the tedious & time-consuming operational workflows. 
Joining Launch & Raising Pre-Seed Round of $400,000
Since May 2021, the team at OnTraccr Technologies have been a member of the LaunchPad acceleration program at Launch Academy. "It was probably one of the best decisions we could have made at the time because the startup journey is challenging. If you're doing it by yourself, it becomes tough to deal with, but if you have a community that's always there to support you, it makes all the difference. The Slack community, the events, amazing guest speakers that you can learn a ton from… It's a reminder for me every week that other founders who are going through the exact same things, can understand you and help."
In June 2022, OnTraccr Technologies closed a $400,000 pre-seed investment round. The company has hired its first senior software developers outside of the founding team and is currently looking for co-op students to join the team. 
Currently, nearly 30 companies are using the platform, with half of them on annual contracts. OnTraccr has started seeing early signs of revenue and is on track to scale further. 
"We've been able to acquire customers, but the next challenge is retaining them," says Syed. "We need to start focusing on other areas like customer success and continuing to iterate and provide additional value. We want to make customers happy and make sure people love the product. And hopefully, we'll be able to raise a bigger round next year."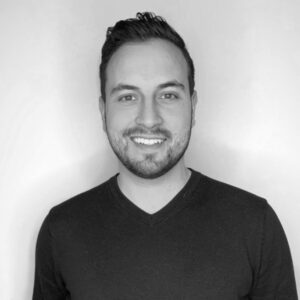 Syed Ahmed is the CEO & Co-Founder of OnTraccr Technologies. Prior to OnTraccr, he worked at Philips, Blue Willow Systems Inc., and Cisco.
Listen to Syed's pitch at Launch.VC's inaugural pitch competition in 2021, where he bagged the 3rd prize! 
Find Syed Ahmed on LinkedIn.