Surround yourself with like-minded entrepreneurs, every day.
LaunchPad program is designed for tech startups looking to learn and grow with other driven entrepreneurs in the same industry. Every resource and tool provided in the program is meticulously created for entrepreneurs, by entrepreneurs.
Utilizing our network of global mentors and resources, LaunchPad content will include topics such as International Scaling, Global Marketing, Hiring, Growth Hacking, and Fundraising. Our guests include business leaders, investors, mentors, government resources, and more. 
Are you ready to take your business to the next-level?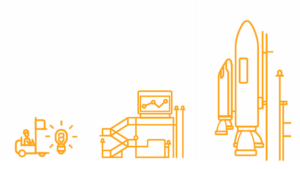 Resources, Network & Startup Perks Worth $300k+ 

Exclusive Community Access
Connect with Launch's community of over 1,000+ entrepreneurs, creators, developers, and investors.

Exclusive Launchhub access with over $300,000 in perks & resources, including Amazon AWS, Microsoft & more!

Traction Conference Series
Traction weekly webinar series brings leaders from Google, Shopify, LinkedIn, Uber, Github & top-tier VCs.

Monthly Ask Me Anything (AMA) live sessions to ask questions to seasoned startup mentors and industry experts.

Live webinars and learning sessions with mentors and partners on the different aspects of building a startup.

Group discussions to meet your fellow members and build strategic partnerships and connections.

Monthly pitch for members to participate in honing their sales and investor pitches with peer-to-peer feedback.

Weekly updates on upcoming events, growth opportunities, member discounts and the latest startup news.
LaunchPad is for tech startups looking to learn and grow with other driven entrepreneurs in the same industry. We are primarily looking to work with companies in the following emerging areas of tech: 

Potential members should be eager to learn from both mentors and peers, and be ready to contribute their own expertise to the community. At Launch, we live by the mantra that – "everybody has something to teach, and everybody has something to learn". If this sounds like something you are excited about, you may be a fit for our community!
Covid Recovery Support: To provide relief from some of the challenges that this pandemic has brought forward in the past year, we are offering a 50% discount on our regular fee for the first 100 companies, constituting a total grant worth $120,000. As Launch is a not-for-profit organization, all program proceeds will be reinvested back into building the Canadian tech and talent ecosystem.
*Plus applicable taxes. The indicated price is per person. A minimum commitment of 6 months is required for the monthly program. Program Fees are charged at the beginning of each month from the date of enrollment (eg. you will be charged every 2nd of the month if you signed up on the 2nd of May). The monthly renewal fee will continue to be billed to the payment method until canceled. Program structure & fee subject to change. Launch Team updates the program structure, fees, and associated resources on a regular basis in order to stay current with evolving industry standards, best practices, and timely resources.
Initial Screening
All interested candidates are required to fill out the initial application form. Please make sure your pitch deck or website is updated before applying.
Detailed Application
If shortlisted, you will receive an email asking to complete a detailed application form covering the candidate profile, company profile & other details.
Interview
Shortlisted candidates will also be invited for a virtual interview to evaluate their commitment to becoming a part of the Launch community.
"Everything in LaunchPad is designed
to help entrepreneurs because
it was created by entrepreneurs who build by going:
'that's what I would have wanted'.
This is why it works."
— Brandon Pizzacalla,
— COO & Co-Founder of GrowthGenius
FAQs
Need more information? Please visit our LaunchPad Frequently Asked Questions page or reach us at [email protected].
Not Quite Ready For LaunchPad?
If you're a first-time founder building out their idea – first of all, congratulations on taking the leap! We have designed a startup course just for you to help you turn your ideas into reality. You can find additional information here.