A Hong Kong Doctor Turned Canadian Startup Founder — Fandy Ting, Ur Health Chart
Fandy Ting, a successful health practitioner in Hong Kong, came to realize that with a tech product, she could help a lot more patients than she currently was working at the clinic. Picking up the idea of connecting elderly patients with their families abroad and doctors, she started building a health app called Ur Health Chart, relocated to Canada with a plan to develop the product further in the North American market, and became a member of the Launch community. Hear her story.
Pursuing a Medical Career
As a kid, Fandy never thought she would become a doctor when she grew up. But while in high school, thinking about the future, she realized that there were not many options. In Hong Kong, the most prestigious and popular choice would be a career in law or medicine. Fandy pursued becoming a doctor, because she liked the idea of interacting with people and helping them. 
She focused on gynecology and obstetrics, and after graduating from medical school, joined the hospital's team. "It was the best period of my career, although the most stressful, with lots of emergencies. Anyway, I enjoyed seeing how the entire team of different doctors and nurses were working together to solve one single problem to help one single person, and how patients benefited from this teamwork."
After three intensive years in the hospital, having trouble handling such a level of stress, Fandy opted for a change and started working as a family physician in a clinic. Although the environment was less hectic, this work also brought some challenges.
The most challenging part was going through COVID-19.
"In the beginning, everyone was scared and didn't know what was happening. As family physicians, we didn't have the equipment to protect ourselves when seeing different patients, and as we were on the front line of patient care, so they always came to us first. I wanted to help, and at the same time wanted to protect myself and my family and find a way to keep everybody safe."
Fandy's journey as a family physician in Hong Kong continued for over 10 years until she decided to make a significant career and life turn.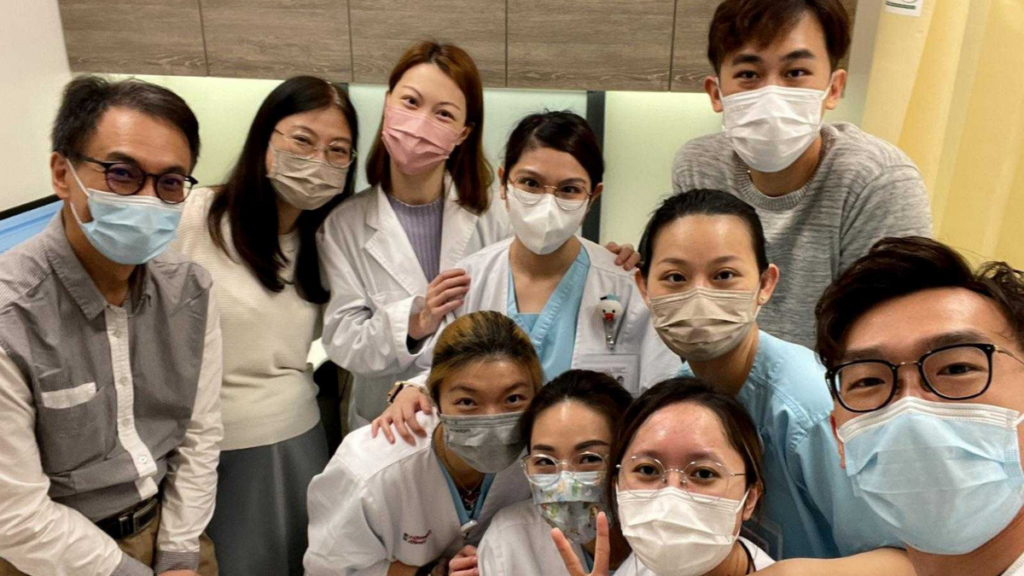 Fandy Ting (third from the left) with her colleagues from the clinic in Hong Kong
Fandy realized that her ability to help people was quite limited by working hours. Being a mother of three, Fandy couldn't devote more time to the job that was already time-consuming. "Instead of staying in the clinic, I started to think I should be working on something else, a system that can help more people — solve the same problems, but on a bigger scale."
The idea of a project wasn't far off. In the past years, the migration of people from Hong Kong to other countries kept growing. While older people stayed in the country, they often remained without the support of their children and grandchildren who had relocated, and thus had to monitor their health on their own. The need to deal with everything without support created an additional amount of stress. 
"As a doctor who often worked with the elderly, I wanted their entire family — even if some of them had left the country — to work as a team and not be separated by geographical differences. My idea was to create a platform that can connect elderly patients with their family and doctors. During COVID, many of these patients who were not familiar with using phones, tablets or mobile apps, had to learn to adjust to the changing environment so as to not to lose connection with their family. That's why I believed they became more open to trying new tech services."
The platform was designed to help patients to maintain a healthy lifestyle and keep a personalized doctor-patient relationship by providing tele-consultation, a personalized secured database for medical data, AI-assisted booking and reminder system, home-care monitoring and elderly fall accident emergency response. 
A patient could input health data into the system, and their doctor and family would get this information. If everything was normal, the platform would encourage this patient to keep everything on track and continue entering new data. If the data was out of range, the doctor would call the patient to set an appointment or additional exams, while the relatives stayed informed about their family member's health condition.
Moving to Canada and Joining Launch
In early 2020, Fandy and her family started to think about relocating from Hong Kong. Fandy hoped to provide her children a more balanced environment to develop their interests and talents beyond an academic curriculum. On the other hand, she was looking to find wider opportunities for her startup.
"Canada, UK, and Australia are the three major places that connect with people from Hong Kong. Among these places, I thought Canada would be the easiest for me to develop my startup because North America is a very big market, with a lot of immigrants from Hong Kong and China. Also, I thought the elderly, even if they live here and speak English, still prefer to use their home language when they see a health practitioner." As a city with a high percentage of Chinese, Cantonese and Mandarin-speaking population, the majority of whom have been here for a few generations, Vancouver seemed to be the right choice. 
Launch Academy was recommended to Fandy by a friend, and she appreciated the fact that it doesn't only support the business by providing intensive programming and access to mentors, but also supports founders' relocation, from housing and banking to socializing. 
"When I landed in Vancouver, I met a lot of entrepreneurs whose companies were at the same stage of development as mine. Some of them are from Hong Kong too: we all are working in different areas — from education to boat renting. And it is really interesting to speak to every one of them because we all have different specialties and experiences, but face the same business challenges.
When we stay together, apart from talking about how we are building up our network and business here, we also discuss different aspects of life: where to go, what to eat, what areas of the city to live in."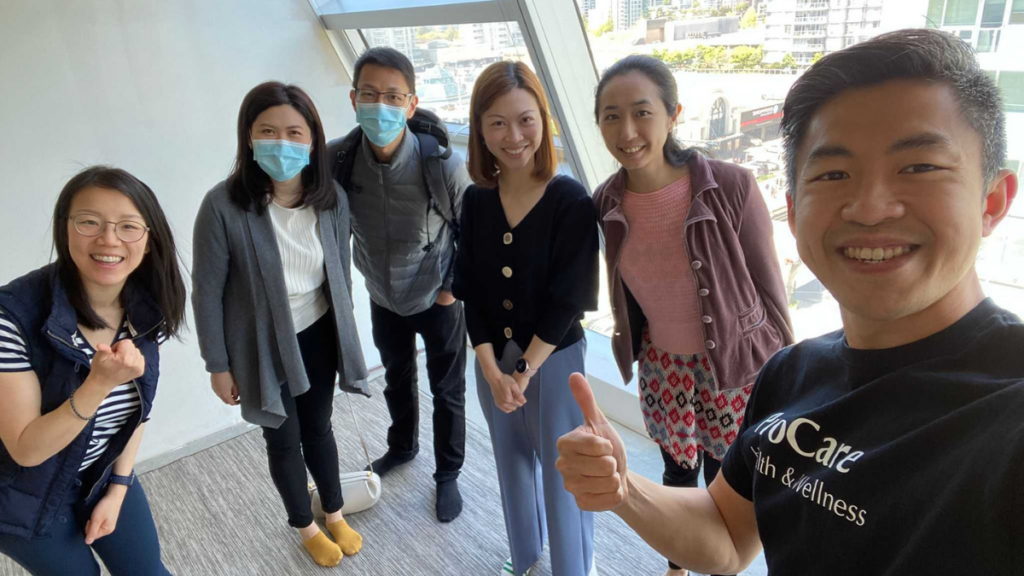 In the beginning, the biggest challenge for Fandy, who trained as a doctor, was her lack of understanding of how to build an app. Her network in Hong Kong mainly included other healthcare professionals. This is when Launch Academy came to provide support. With Launch's advice and connections, Fandy found a few potential programmers who were keen on  the project. But getting the right match wasn't easy. Not many programmers had the experience with the healthcare system, which is specifically very multidimensional and particular about data privacy. Finally, she found someone through the Launch network who checked all the boxes. 
When the first prototype called Ur Health Chart was built in summer 2021, Fandy tested it within her network, collected the feedback and started working on the upgrade. 
Currently, Fandy continues to develop Ur Health Chart. At first, the subscription model was based on the patients, but now, Fandy is aiming at targeting the institutions: it is easier for them to pay for the service and then provide it to the group of elderly that the institution is taking care of. "When we start collaborations with the institutions, we will widen our focus and definitely try working with the local Canadians, too."
As Fandy continues to work on her startup, she is also looking to get her license to practice. "I think that keeping a current practice would help me to keep my business up-to-date."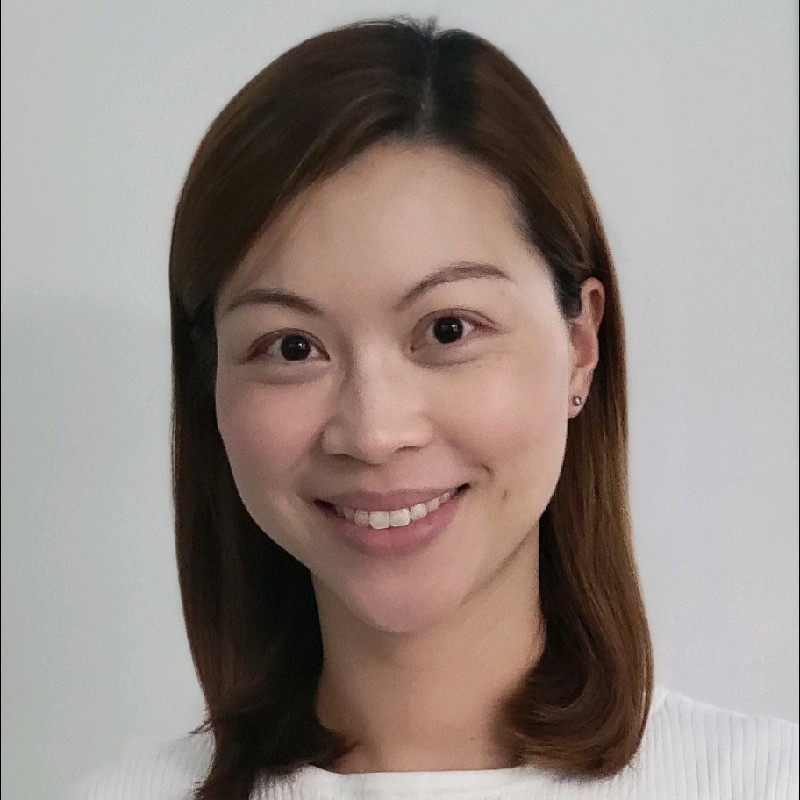 Fandy Ting is a family physician from Hong Kong, who is now building a health tech startup Ur Health Chart, which focuses on maintaining a healthy lifestyle of users and keeping a personalised doctor-patient relationship, in Canada. You can reach on LinkedIn.
Want to expand your tech business to North America, too? Join the Maple Program.