A Founder's Journey From Europe to China and Now to Canada
Before moving to Canada and joining Launch Academy, Lionello Lunesu worked in the Netherlands, Romania and China, launching tech startups, running software development teams and programming for Microsoft. Now he is on his new journey, building Defang Software Labs, a service for building, deploying, and managing cloud applications, with Prakash Sundaresan.
Dropping Out of College to Develop a Startup
Lionello Lunesu started his first startup, Mondo Bizzarro, by accident. In 1997, while studying IT in Eindhoven, a city known as the Netherlands' tech and design hub, Lionello and his friend spent their free time building 3D games. "We stumbled upon somebody who had a lot of virtual reality hardware. He asked us: Hey, can you guys write me some software? So we started building a game for his virtual reality helmet. We also did non-virtual reality-related stuff like Windows programs for other companies."
Lionello left University to focus on the startup. However, finding new customers was a challenge. As two geeks without well-developed social skills and sales experience, sometimes they would spend two months without a new project and income until they found a new client. The help came from their first customer, who invited Lionello and his co-founder to a conference. One of the attendees, MaxFlight Corp., hired Mondo Bizzarro to develop a flight simulator and monster truck simulator for their motion platform. 
Things went well until 2001, when September 11 attacks and the dot-com bubble caused a market crash for flight simulators. Mondo Bizzarro got an acqui-hire offer from Crystal InterActive, the company that built software for huge semiconductor factories like Taiwan Semiconductor Manufacturing Company. It covered all debt and gave stable jobs to most team members.
Relocating to China and Joining Microsoft
Joining Crystal InterActive also opened a new chapter in Lionello's life. As one of the company's development teams was based in Romania, Lionello relocated from Eindhoven to Bucharest to supervise a team of 10 programmers. After five years in Romania, he moved to Beijing for similar work with a local development team.
"I found that it was actually easy to work with the people there, but there were some cultural differences I didn't know about. For example, in the Netherlands, you can do pair programming and comment on your colleagues' code; everybody takes it as feedback. In China, you don't give feedback in public because people will feel like you're denigrating them. I remember during my first month, I told somebody that their code could be better written a different way. The person started crying. That was a tough lesson." 
After two and half years in Beijing, Lionello decided to quit the company and look for the next challenge. Having experience with starting his own company and running his development team, he wanted to get a different experience. Lionello thought: 'Okay, this time, let's pick the biggest software company and the biggest project.' This idea led him to Microsoft in Shanghai, where he stayed for three years working on Windows.
New Startup and New Challenges
"After Microsoft, I joined a startup with the ex-Microsoft folks but quit after a year to start a hackerspace Xinchejian, the first one in China, with my friends. Technically, they started it, but I was the first member and became a part of the core team. At that time, the concept of the fourth industrial revolution became widespread, meaning that people could make their products without help from big factories." 
A lot of people came to the hackerspace to build stuff. For some, it was just a hobby, but others built their hardware startups and made prototypes using 3D printers, laser cutters and other devices available in the hackerspace. 
One of the founders who Lionello met planned to build a virtual assistant like Alexa, Siri or Google Assistant in the shape of a cute little cube.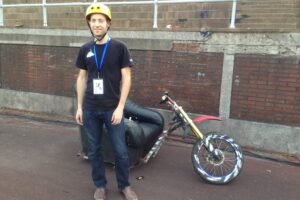 The electric "Sofacar" that Lionello created at the Xinchejian hackerspace
The guy wasn't technical, so he was interested in having Lionello in the team. They found an accelerator in Hong Kong that could provide connections with the plastic injection factories and mechanical designers, so they relocated. 
"As our project took shape, we realized this device would cost around 150 US dollars, and nobody would pay for it. So it became very apparent to us: to make money in hardware, you have to sell services to recuperate that money that you invested in the hardware. We decided to cancel the project.
It's so common that the thing you build doesn't make it to market. It might feel like wasted time, but you learn a lot. Especially for someone who hasn't finished school, it always feels like an education."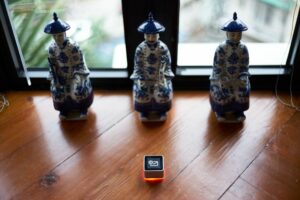 The little cube that didn't make it to the market
Unexpected Acquisition and Landing in Vancouver
Lionello's next initiative pushed him to relocate again — this time, across the ocean. Together with his previous co-founder, he set up a new company in Hong Kong, Enuma Technologies, where they provided contracting services as programmers. The company was doing well; the co-founders hired eight developers to join the team, but then one of their significant customers got acquired. As part of the deal, the acquiring company, Workday, didn't want to get "a USB stick with the code" but the team building it. However, they had no development offices in Hong Kong, and Lionello had to choose his next destination among ten offices across the globe. 
"At the same time, my wife applied for a PhD and got accepted to the University of British Columbia in Vancouver, one of the options I could choose from. If both of us could hit the ground running, it would be much better than one sitting at home trying to find a job. That's what brought us to Canada."
Building a Startup in Canada
The itch of running his own company never went away. That was true when Lionello worked in Microsoft when he quit after three years, and that was also true after almost three years in Workday. So in 2021, he reconnected with Prakash Sundaresan, one of his former managers at Microsoft who lived in the US, and decided to work on something new together. 
"Having built web services for nearly 20 years, you start to see a lot of commonalities. Every web service needs to take care of security or scaling, needs continuous integration, deployment, account management and access management. When you follow the trendy tutorials on how to build a service, all of these things are afterthoughts. You can build a web service in a few hours using Ruby on Rails, and it will look like a Twitter clone. But it won't have security, access management, continuous integration, continuous deployment, and observability. Your server will die if your Ruby on Rails app gets 100,000 users just because Elon Musk tweeted your URL. Our idea is not to let this happen: we are creating a template that helps build resilient, scalable services." 
They named the startup Defang Software Labs.
As newcomers to Canada, who didn't know much about the local market, the co-founders wanted to get a template and structure for getting started quickly. Prakash joined the Maple Program at Launch Academy first, and Lionello came along later.
"I like working out of an office, so Launch provided a co-working space. In my co-founder's case, it helped with some visa processes. The people I've met through Launch are very high caliber. I can bounce ideas off of them, and since all of them need web services, who knows, I might have future customers here too. Getting this network ready to go instead of trying to figure things out all by yourself saves a lot of time."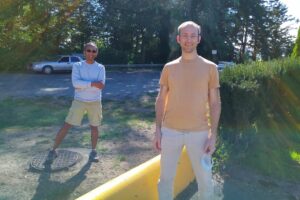 Prakash Sundaresan and Lionello Lunesu at the Point Roberts US-Canada border. It was Lionello's first day out of quarantine in 2020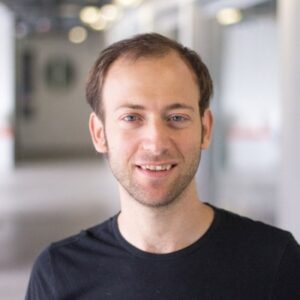 Lionello Lunesu is the Co-founder of Defang Software Labs, engineering lead and community organizer and he has 20 years of international industry experience working with software and hardware. He has lived in Eindhoven, Bucharest, Beijing, Shanghai, Hong Kong, and recently moved to Vancouver BC. In 1997, Lionello founded a virtual-reality software company, acquired by a multinational company for real-time 3D rendering technology. In 2019, Workday acquired Trusted Key, the blockchain digital identity startup he helped found.
Find Lionello Lunesu on LinkedIn.