Move Your Tech Startup To Canada
Maple Program & Startup Visa
Canada is a perfect landing pad for many businesses around the world who are looking to expand their businesses to North America. Launch is a designated organization of the Canadian Government's Startup Visa Program and a designated referral partner for the Global Talent Stream program.
Launch's Maple Program is designed to help emerging tech companies expand their business to North America. We help tech companies identify the best path for immigration for their team and their families through Startup Visa, Express Entry, Provincial Nomination, or Global Talent Stream.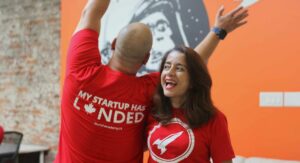 Program Requirements
We work with companies that already have a product in the market, are financially stable, have already raised funding either internally or externally, and/or already have revenues. We primarily work with companies in the following tech sectors:

The deadline to apply for the next cohort of the Maple Program is Sept. 26, 2021. Applicants must fulfill the following initial requirements before applying. 
Each applicant must individually hold at least 10% of the company's voting rights and applicants altogether hold at least 50% of the company's voting rights

Applicants must have a minimum Canadian Language Benchmark (CLB) of 5 in English

Must be willing to move to Canada within 12 months of application
Note: This is an initial application and doesn't guarantee your acceptance. The full list of requirements can be found here.

Non-Profit, taking
0% equity

Located in
Downtown Vancouver

Created for entrepreneurs, by entrepeneurs
Program Details, Fees & Features
Our Maple Program was created to aid international companies currently at Seed, Series A or higher with their growth and expansion to North America by providing a landing pad with resources, mentorship, networking, and business matchmaking to overcome the challenges that occur when moving a business and family to Canada. Please visit our FAQ page for all the information about our Startup Visa Canada & Maple Program.
The program is broken up into 5 phases, over an aggregate span of approximately 22 to 36 months. Each phase is designed to provide enough information and resources for each of the companies to make the preparations necessary for transitioning your company to Canada.
The 1st Phase is 1 to 2 months in nature and occurs over a series of virtual workshops and online office hours.
The 2nd Phase's schedule is dependent on the company's own timeline but is expected to be completed within 3-6 months following the completion of Phase 1.
The 3rd Phase is also completed virtually online prior to the company's arrival into Canada and typically 2 to 12 months in length.
The 4th Phase occurs in Vancouver and spans around three months.
The 5th Phase takes place over a 12 month period both virtually and in-person and functions as a support system as companies solidify their operations in Canada.
The program completion time varies depending on various individual factors including but not limited to border restrictions, work permit processing times, etc.
Unlike other programs, Launch takes 0% equity  in your company. Instead, there is a program fee starting at $40,000* CAD over 22-36 months (plus applicable taxes, note for companies outside of Canada, all local non-Canadian taxes will be the sole responsibility of the international company) for the program.
Phase 1 (Information) – 1st Installment: $5,000 CAD – Paid prior to the start of the program.
Phase 2 (Roadmapping) – 2nd Installment: $5,000 CAD – Paid upon acceptance into Phase 2 of the program.
Phase 3 (Transition) – 2 Installments of $5,000 CAD 

–

2 payments of $5,000 CAD each due at the beginning of Phase 3A (1-5 months) & 3B (1-7 months).



Phase 4 (Landing) – 3 Installments of $5,000 –

3 payments of $5,000 CAD each + any applicable taxes, due at the end of each month of Phase 4 (3 months). This excludes any additional fees that may incur during your immigration process, legal fees & additional services that may be required.

Phase 5 (Launch) – 8th Installment: $5,000 CAD – Paid upon acceptance into Phase 5 of the program.
As Launch is a not-for-profit organization, all program proceeds will be reinvested back into building the Canadian tech and talent ecosystem.
Please note that the Maple Program fees are not correlated to the success and failure of the company's immigration status, but rather for the programming and services provided to help companies acclimate to the North America Market.
Private workshops on immigration, incorporation in Canada, transferring IP to Canada, accounting and tax implications, and more

Lifestyle and landing pad support for your team members and families, including banking, insurance, and housing information

Guidance and support through your company's immigration needs

Office hours with some of the brightest minds in Startups

1 on 1 mentorship with a dedicated lead mentor

Business matchmaking for your company's needs

Exclusive access to Launchhub, featuring: 

Access to up to $300,000 CAD of start-up perks

Monthly AMAs (Live sessions to ask questions to seasoned start-up mentors)

Monthly Webinars (Live Learning Sessions with mentors and partners)

Monthly Standups (Group discussions to meet your fellow members and build strategic connections)

Monthly Pitch Sessions (Monthly sessions for members to participate in honing their pitches)

Exclusive invitations to CxO Summits, gatherings of high-level executives from the best startups in North America

2 tickets to

Traction Conference

– North America's Leading Growth Conference

Launchpad

(Maple programming) – Launch community access, series of webinars and different other resources
Launch is western Canada's premier technology hub located in Vancouver, BC. We help entrepreneurs execute on their businesses through industry expertise, mentorship, lean metrics and networking opportunities. Launch's rich alumni network consists of businesses such as Koho, FansUnite, Klue, Victory Square, Later, Thinkific, Lighthouse Labs, Picatic and more!
You can partner with Launch if you are a VC or investor looking for a trusted partner with immigration options for your portfolio companies or an immigration consultant looking for solutions for your startup clients.