Creating the World's First Laundry Robot — Joshua Rabanne, Laundrx
Joshua Rabanne started his first business at 12 when he was selling nootropic tea to his fellow students before exams. Years later, he launched the production of toilet and kitchen products in the Netherlands and planned to expand to North America. However, the pandemic forced him to abandon this idea and focus on another project. So in 2022, Joshua relocated to Canada via the Start-up Visa and Launch's Maple Program developing Laundrx, the world's first laundry robot.
Building a Start-up in the Netherlands
From an early age, Joshua had the chance to live and study in different countries. After spending his first few years of childhood in Iran, he moved to Malaysia to study Economics and travelled across Southeast Asia. Finally he settled in the Netherlands, where he got a degree in Business. 
"I always knew I wanted to be an entrepreneur: to look for something that doesn't exist and bring that experience into a beautiful packaging and story. One area that I thought was interesting was tissue paper because it's one of the lowest-interest product categories in supermarkets. Yet, I thought we interacted with it every day. Also, it comes from unsustainable sources." 
Joshua and his classmate began to look for different alternatives. Joshua asked his father Mehrdad, a chemical engineer, to join them. Like many other talented scientists, Mehrdad had many inspiring ideas that could transform the world, but they never came to reality because he wasn't much of a business person. "That was one of my childhood inspirations for starting a company and learning how to do business," explains Joshua.
The first time Mehrdad Rabanne visited his son in Europe, they went to Dusseldorf for the world's largest plastic exhibition, which was Mehrdad's main expertise. While Joshua was talking to attendees about the business behind their companies, his father focused on the science side. 
"He got so excited about our idea," remembers Joshua. "I told him, "I need you to improve the tissue paper and make it softer." He answered, "If I make it softer, can you sell it?"
Joshua, Mehrdad and Joshua's classmate named their newly established company Chu Paper and started working on the product. Everything went well in the beginning. The team negotiated with major supermarkets in the Netherlands and France. Joshua thought that his classmate could handle most of the customers and run operations in Europe. Meanwhile he planned to expand their product to North America since they had already established connections with one of the biggest producers there. 
They were just a few inches away from having their product on the shelves when the pandemic happened. The product cost tripled, the team couldn't guarantee the supplies, and the shipping costs also soared. "We were not in operations before, so we couldn't get a good deal from the shipping companies. At that moment, I had already applied for the Launch Academy's Maple Program. So meanwhile, in the process of getting to Canada, we had to abandon our primary idea and work on something else that we've been working on for the past five years, but in more of a stealth mode."
The World's First Laundry Robot
The idea for Laundrx, the product they started to work on after Chu Paper, appeared after that trip to Dusseldorf. At the plastic exhibition, they explored different industrial cleaning methods for cleaning parts of petrochemical components. "I thought to myself: chemical engineering has advanced, but laundry is the same as it used to be decades ago. At that time, I was living in a building without a laundry unit, so I despised doing laundry a lot,' adds Joshua. 
Joshua and Mehrdad started developing this idea to find a better way to do laundry. "We worked with everything you can imagine: from supercritical CO2 to ultrasonic waves. When you want to build something that never existed, you will often get very excited about a certain idea. For example, at one point we thought ultrasonic transducers were really interesting because they increase the molecular movement and can make the cleaning really fast. For a few months, we thought it would be an amazing product, but when we built it, it didn't work. So, we had to pick up another technology and build another dream around it. That was the hardest part of the process in the beginning".
Finally, the team found a solution. Instead of submerging the clothes in a large pool of water, the team used accelerated mass transfer headers to move the fluids through the clothes.  
The first unit of Laundrx machine was built in Iran as the cost of production was cheaper than in Europe. At that moment, Joshua was the only one involved in the project on a full-time basis. His father, who worked on Laundrx as a side project, hired a couple of freelance engineers. 
Joshua's aunt and uncle became the first customers to test the product and give their feedback. Along with washing clothes, the machine also dried and steamed them — and only in 15 minutes. 
Relocation to Canada and Product Launch
In February 2022, Joshua and his family relocated to Vancouver with Canada's StartupVisa and Launch's Maple Program. They continued to work on Laundrx. 
"I guess it all started when I was in Amsterdam, and someone asked me where I am from. Having all this background, I felt like I can't say anywhere as there's nowhere that matches me. My girlfriend is from South Korea, and we've been together for more than 10 years. At that moment, I was like, where do I want my kids to grow up? Then, I thought to myself: I want to go somewhere that is built by immigrants. I want to be part of the immigrant community." 
Vancouver has turned out to be the perfect option for the team: mainly because of its proximity to the US and its friendly community. "All the major West Coast cities are less than three hours away." Another reason is that it was hard for Joshua to network in the tech community in the Netherlands and get attention from the tech leaders. In Vancouver, he feels very comfortable making connections within the industry.
The team of Laundrx has expanded to 16 members who are based in South Korea, Sri Lanka, and Canada. Currently, they are building the maps for the machine to have production-ready files and working on industrial design to improve the aesthetics of the machine. 
"Financially, we are on our capital and have one investor so far. We are interested in finding investors to build our product or maybe start a crowdfunding campaign to secure the orders and start producing ourselves. Another option is to work with bigger companies who can use our licensed technology to build similar products to ours."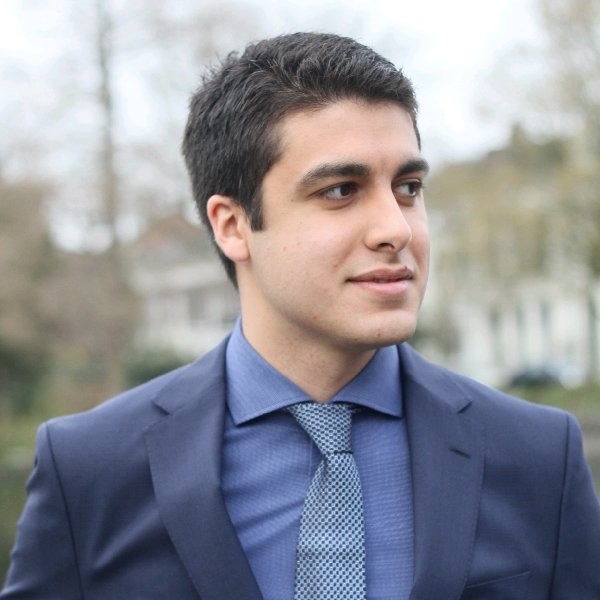 Joshua Rabanne is a serial entrepreneur with a background in business management and a solid engineering knowledge-base. He is passionate about creating innovative businesses that radically improve the way we live and work. Joshua has lived in 4 countries and on 3 continents and believes in the power of diversity. You can reach him on LinkedIn.