Build No-code Apps in 90 Seconds with Pineapple – David Cruz
Joining us on the latest Bits & Bytes episode is David Cruz, the winner of the recently concluded Launch.vc Pitch Competition 2021, founder of Pineapple Build, a no code mobile app builder; and Vhista,an app designed to help the visually impaired. David has worked for multinational companies including Google and Meta and is also one of our current Maple program members. In this episode, David talks about his journey from Bogotá to San Francisco, his future plans and the superpower that can change the world!
When Steve Jobs released the first ever iPhone in 2007, David Cruz was still in his high school in Bogotá, Columbia. The hype around the iPhone got him excited about technology and he started learning to code. By the time David got into university, he was already building mobile applications!
For David, the most fascinating part about coding was the ability to create something out of nothing. "It's like having a superpower", says David.
Vhista
Years ago, while travelling via public transit in Bogotá, David noticed a blind person enter a train and not one person offered a seat to them. The lack of empathy for people with disabilities inspired him to use his 'superpower' to build an app for the blind, Vhista.
"I think they are not disabled, but we make them disabled by not creating a world that is inclusive for all. I wanted to change that with the help of technology", says David. 
Vhista is an iOS based mobile application designed to help the blind. With image recognition algorithms and assistive technology such as voiceover, the app serves as a tool for blind to identify objects such as cars, rooms, food, landscapes and much more.
After opening the app, users can point their phone camera towards whatever is in front of them. Using augmented reality, machine learning, and the LiDAR sensors on the camera, the app is able to identify objects and their proximity to the user which is then relayed using voiceover.
Vhista was an overnight success and he was approached by various Columbian, Russian and American media houses about the capabilities of the app. Sensing the opportunity that came with its popularity, David open-sourced the project giving people free access to his code to build something even bigger and better.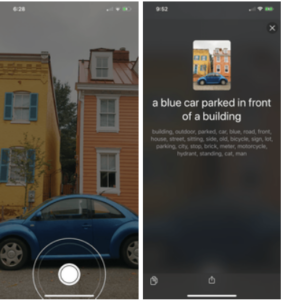 Vhista identifying objects such as cars & landscapes.
According to David, it was a dream for any software engineer in South America to go and work in Silicon Valley. His dream came true after the widespread success of Vhista as he was approached by tech companies in the valley and was invited to work for them. 
But after almost 3 years of working for some of the biggest tech companies in the world like Meta and Google, he quit. 
"I enjoyed it, but it was not as cool as people make it look. In a big company you're just a number, either the  people or the processes shut you down," says David. "As an entrepreneur I was learning every single day, whereas while working for these companies I was just completing my task over and over again."
At that moment he decided to say "goodbye to the engineering salary in Silicon Valley" and quit. He wanted to go back to building stuff that mattered for people. 
Pineapple
David's quest for building new meaningful products propelled him to develop a no-code mobile app builder, Pineapple. Currently available on iOS with working prototypes for the Android version, Pineapple is democratizing app development for everyone by letting you build mobile apps without a single line of code.
With Pineapple, you can drag and drop elements like buttons, text, maps, add actions and customize the appearance of your app. Apps created on the platform can be exported to native code, so that developers can build on top of what was created. Information, tutorials and courses on how to build an app is also available. 
David recently pitched his no-code app builder, Pineapple at the recently concluded Launch.vc Pitch Competition 2021 in front of hundreds of tech enthusiasts, investors and judges and won the competition winning a cash prize of $10,000 from Launch.vc plus $3,500 in-kind services form MEP Business Counsel and Boast.AI. Watch the pitch here as he explains how you can build an app through Pineapple without any coding knowledge in just 90 seconds! 
David envisions Pineapple to be available for students in public schools in South America, Africa and other countries that may benefit from the no-code app builder. "Tech is their future, it's our future. I just think that we need to give people the tools to be able to be part of this tech revolution."
"I wanted everyone to be able to build an app, whether you are not a non-technical founder or a student or someone who wants to create an app and knows nothing about code." 
Announcing exclusively to our Bits & Bytes podcast listeners, David reveals that the team is currently in closed beta testing phase for the web version of Pineapple and will be releasing 'Pineapple Web' soon.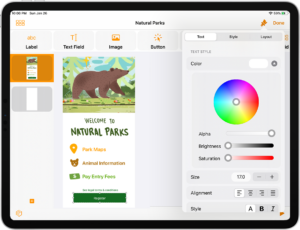 Pineapple's easy to use drag-and-drop element on display.
David is currently a part of Launch's Maple Program, and is in the process of moving his company to Canada. "Canada is very similar to the US in terms of opportunities to thrive as a business, and it also comes with an added plus that it's not bad to be different here. It's such a multicultural country.
David sees the future as having his company completely open source, living on a farm and  being self-sufficient. Probably living in a bunker with just video games.
Listen to the full podcast and learn more about Vhista and Pineapple here.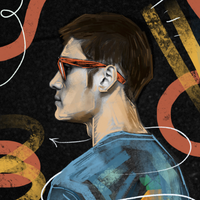 David Cruz, is the founder of Vhista, an open source app for people with visual impairments; and Pineapple, a no-code app builder. Previously he worked for multinationals such as Google and Meta while working on accessibility projects for Instagram. David's work has been recognized by Meta, MINTIC and Apple for his socially focused initiatives.