Meet Our Maple Member: Andrii Plakhotnyi, Hand2Note (SaaS)
Every few months we welcome multiple international startups to Vancouver, as they begin Phase 4 of our Maple Program. In an ongoing Maple Member series, we interview our newest Canadians about their experience with Launch and Canada so far.
Although we aren't able to physically welcome all of our newest Phase 4 companies to Canada, given the current travel restrictions caused by COVID-19, we are excited to introduce them to you as we continue to run this part of the program virtually.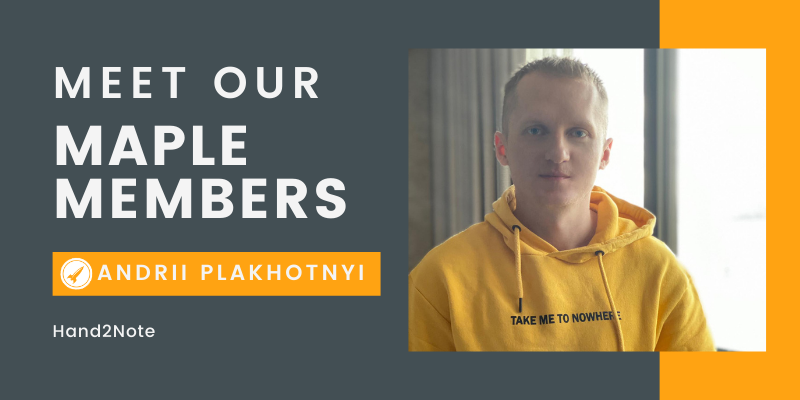 Ever since he was a young child, Andrii knew he wanted to be an entrepreneur. He loves that entrepreneurship gives him a big goal, and knowing that he gets closer to achieving that goal every day makes him want to wake up in the morning.
Andrii began his career as a software engineer, but before starting his company, he became a professional online poker player, and was successful. As he was learning and exploring different poker strategies, he found that there was not any software on the market for his needs, thus he began coding his own — Hand2Note.
Hand2Note is a desktop application for professional online poker players to track their results and statistics. It is often referred to as a poker HUD app, and he founded it in 2011 while he was living in Thailand. 
Andrii's dream for Hand2Note is to combine his technologies with machine learning to build a B2B service that provides game integrity for poker rooms and to scale it to other industries where people compete with one another; ultimately allowing even small projects and teams to provide quality game integrity to their users. After much deliberation and research, Andrii realized that settling in Vancouver would give him access to the legal and banking support Canada would provide, as well as being close to the Bay Area, would allow him to make that dream a reality.
Andrii is one of the few members who has been able to land in Vancouver, and is looking forward to being a part of the entrepreneurial community, and hopes to meet many people with similar goals and different experiences.
If you are in the SaaS space and want to connect with Andrii, you can add him on LinkedIn.