Meet Our Maple Member: Joshua Rabanne, Chu Paper (eCommerce)
Every few months we welcome multiple international startups to Vancouver, as they begin Phase 4 of our Maple Program. In an ongoing Maple Member series, we interview our newest Canadians about their experience with Launch and Canada so far.
Although we aren't able to physically welcome all of our newest Phase 4 companies to Canada, given the current travel restrictions caused by COVID-19, we are excited to introduce them to you as we continue to run this part of the program virtually.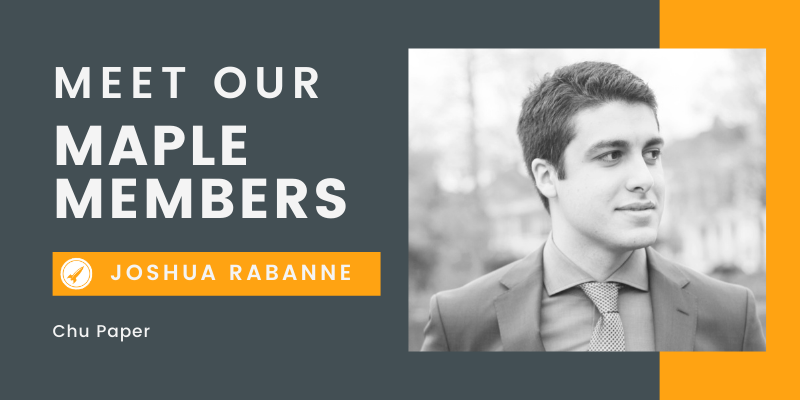 Joshua Rabanne discovered his passion for creating businesses when he started his first business at age 13, producing and selling nootropic tea blends. 
Joshua has a background in business and marketing management, but it's the ability to bring his vision to life and motivation to create solutions that make life better that are the key driving forces to him becoming an entrepreneur.
Most recently, Joshua has been working on his company, Chu Paper which he founded in 2018 in Amsterdam. Chu paper produces toilet and kitchen paper products from alternative fibers such as wheat straw and bamboo.
Joshua's dream for Chu Paper is to make alternative fiber paper mainstream. After much deliberation and research, the close proximity to the United States and opportunity to participate in the Startup Visa Program, made Joshua realize that making the move to Vancouver would help make that dream a reality.
Although he is one of our many members that have experienced delays because of travel restrictions due to COVID, Joshua has enjoyed his time with Launch so far, claiming that "Phase 1 [of the Maple Program] was really thought out and took away almost all of the confusion that naturally arises from moving your business across the planet."
If you are in the eCommerce space and want to connect with Joshua, you can add him on LinkedIn.