6 Startups to Vie for $20,000 at Launch.Vc Pitch Competition 2021
The top six finalists for the competition were announced after a preliminary round of flash pitches by 20 promising Launch startups. The finalists will present a 90-second pitch in front of Launch.VC's community of 1,000+ founders, investors and industry experts. After this first round and a Q&A session with our judges and audience, 3 finalists will be selected to present their 3-minute investor pitch for a chance to win up to $20,000 in cash.
Prizes
1st place: $10,000 in cash

2nd place: $5,000 in cash

3rd place: $2,500 in cash

+ $2,500 worth of in-kind prize
Join us LIVE for free from anywhere in the world on November 17, 2021 at 3 PM PT. Get your virtual link here.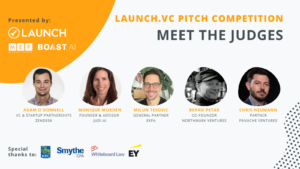 Don't miss a chance to see the future of BC Tech sector take the stage and get to know what companies from Launch's programs are building. The viewing audience will have a say in deciding which startup delivered the best pitch. Join us on Nov 17th at 3PM PT. Click here to register for the event.