Traction Conference 2022 — A Recap
After a hiatus of two years due to the pandemic, together with Boast.AI we were thrilled to host the 8th Annual in-person Traction Conference.
Recognized as one of the top 10 tech marketing conferences in North America, this year, the event gathered over 1,000 tech leaders from 60+ different international cities and 43 speakers from some of the fastest-growing companies.
"This is the third Traction I've been a part of organizing, and the event seems to grow exponentially each year. Our webinars that started in 2020 have really broadened our audience! It's incredible to be part of an event that brings together the tech community from not only Vancouver, but all over North America and beyond," says Alana Paton, VP of Partnerships and Operations at Launch Academy.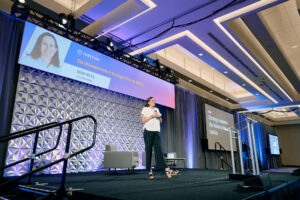 "Don't get too stuck on trying to understand everything your competitors are doing, just have a pulse on their progress." Sara Hicks, CPO at Mailchimp, talks about product strategy
Starting with the invite-only CxO Summit on August 9 at Grouse Mountain with over 150 C-Suite leaders from various parts of the world, the conference opened to the public over August 10 & 11 at JW Marriott Parq Vancouver. The conference schedule included multiple sessions such as fireside chats, panel discussions, and keynotes  covering various topics ranging from fundraising, scaling, product strategy, customer success, developer relations and much more.
The speaker lineup included:
Along with sharing knowledge, attendees got a chance to participate in the 'founder-funder matchmaking' event and to connect with fellow tech leaders. The opening reception accompanied by networking and delicious food became an extension of the saturated first day.
Here is what some of Launch members shared about their experience:
"When things are spoken by leaders who have already built startup unicorns with billion-dollar valuations, you trust them. What I especially appreciated during Traction was that unlike the Web Summit with dozens of thousands of attendees, you could easily connect with any speaker after their talk," shares Igor Debatur, Uploadcare's Co-Founder & CEO.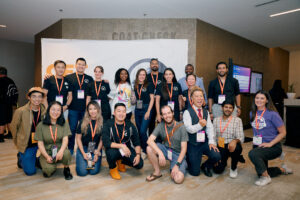 Launch Team with some of our members who joined us at Traction
"One of the most rewarding takeaways from Traction was speaking about my product with as many people as possible and getting their feedback. As a founder who recently moved to Vancouver, it helped me better understand the market," adds Isheanesu Doro, Drimkoe's CEO and Founder.  
Through Traction, Vancouver got a $3-million economic bump. This figure includes direct spending by organizers, sponsors, and delegates during the conference and will keep growing into 2023 when deals and partnerships signed at the event are finalized.
Thank you to all sponsors and volunteers who helped to make the conference a success! Stay tuned for videos from the conference.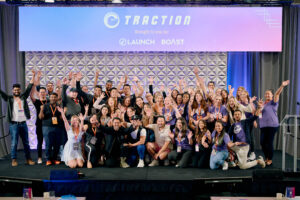 Months of preparation, countless hours, communications and peer support went behind the scene to pull off the Traction Conference 2022