The Pivot From Payso to Finn AI – Nat Cartwright's Journey
What felt like overnight, Nat Cartwright went from traveling business class and meeting heads of states to handing out Payso cards in universities and being continuously rejected by teenagers. "I went home thinking, what am I doing with my life?"
Back in 2006 when Nat Cartwright was in Kenya, she came across a local app called M-Pesa. Through M-Pesa she could transfer money from her cell phone to someone else's seamlessly, whether it was to split the dinner bill or share taxi fare. Fast forward to 2013, Cartwright met Jake Tyler in Madrid's IE Business School, who came up with the idea of introducing a similar app for the Canadian Market. 
Cartwright and Tyler partnered up to create the Payso app because they thought Canadians deserved better than cash, cheque and Interac. With Payso, you could send instant money to any phone number in Canada as easily as sending a text message!
But 9 out of 10 startups fail. Don't they? 
After 2 years of the Payso app being in the Canadian market, 10k+ downloads, and $1M worth of payment transactions, the app was shelved. "It eventually turned out to be a terrible business idea for the Canadian market," says Cartwright.
You would imagine this promising business model, hugely successful not only in Kenya but also in other parts of the world (think Venmo in the USA), would thrive in Canada, but unfortunately for Nat and her team, this wasn't the case. 
"There are a few different reasons that it didn't work here," explains Cartwright
A comparatively smaller Canadian market

Difficulty in accessing existing payment rails, since Canada has a concentrated banking sector with a few major banks controlling a lot of the market

The advanced and robust Canadian banking model has various options to transfer money that people are already comfortable using
"But it was an incredible learning experience. We did have early pieces of artificial intelligence in that product, which was how we ended up doing the product that we have today, which I have to say is much more interesting," says Cartwright. With continued investor support and a solid team as her allies, Cartwright was able to pivot the failed Payso to Finn.AI.
Finn AI is an AI-powered conversational chatbot that helps banks and credit unions automate and scale convenient self-service. As the front line for bank customer service, it reduces customer wait time and call center caseloads, delivers support 24/7. "We've got a natural language processing engine that understands how you speak to your bank. We overlaid that with a whole product so that we get the best experience", says Cartwright. 
Finn AI aggregates data from customers for a dedicated library of banking-specific utterances and predefined responses. "Over 2 million retail banking utterances from real users have been labeled and power Finn AI's  NLP engine. With every new conversation, we are growing our data and continue to train and expand understanding."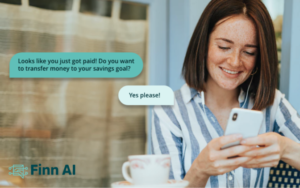 Before venturing into entrepreneurship, Cartwright worked for The Global Fund to fight HIV, TB and Malaria in Geneva, which invested in low and middle-income countries. Although it was a comfortable place to work, it was also an eye-opening work experience. As part of her work, she saw an exceptional amount of poverty with people who lived completely different lives than most people she knew back home in Canada
The entrepreneur in her thought that even though starting a company came with its own risks, she was not risking her personal safety, psychological well being or ability to feed herself. The nature of her work in international development made her realise that there are greater challenges in life. "That perspective, I think, gave me a lot of freedom in it feeling much less risky than it might otherwise feel", says Cartwright.
Cartwright's journey was full of challenges. Being rejected by investors, negative responses, lack of support and so on. "I went from traveling business class, meeting heads of states one year to the next year, literally being in a T-shirt with the Payso logo on it, handing out cards in UBC and being continuously rejected by 18-year-olds", says Cartwright. "It's a big hit to your ego." 
She emphasizes the importance of surrounding yourself with people who will pull you forward during your difficult times, whether it is family, friends, business partners or genuine well-wishers. "It's always who's around you, and who supports you, and how much belief and faith do you have in each other.
Cartwright advises young entrepreneurs interested in Artificial Intelligence to keep learning, whether it is reviewing The Montreal Declaration for a Responsible Development of Artificial Intelligence or reading a book on AI. Her favourite book is called Prediction Machines: The Simple Economics of Artificial Intelligence which she believes is a perfect AI 101.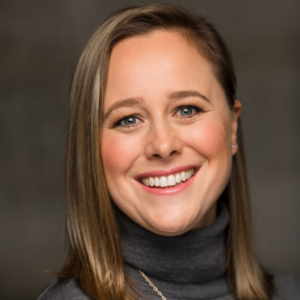 Nat Cartwright is the Co-Founder & Chief Operating Officer at Finn AI; Director at The Artificial Intelligence network of British Columbia (AInBC) and a Member of the Canada Advisory Council on Artificial Intelligence. She has been awarded BC's Most Influential Women in Finance, Stem Star and Vancouver's Top 40 Under 40, 2016 by Business in Vancouver.
Connect with Nat on LinkedIn. Learn more about Finn AI (Launch alumni company).