Esports is the Guiding Star for Media and Entertainment
Amidst all of the COVID chaos, one thing is certain, business as usual will not be the same moving forward. There were already a number of shifts in industries such as retail, hospitality, media, and entertainment underway prior to all of this but moving forward the timelines on those shifts have accelerated exponentially.
Some of you have probably heard me say that I believe esports will be the guiding star for the future of media and entertainment as the generations heavily invested into esports today are prime indicators of how future audiences for media and entertainment will not only consume content in the future, but also how they interact with brands, how they spend their money, what trends they latch onto, and how quickly they move on to something new. I think this shift has accelerated exponentially as online gaming has skyrocketed this past month as everyone self isolates at home.
The Launch team has had a long history with esports. In fact the very first company accepted into Launch Academy 8 years ago this week in April 2012 was an esports company, Battlefy, that has since grown to become a leader in the industry. The very first company I put forward for investment at the first fund I co-founded, LX Ventures, was, in fact, Battlefy as well. But it doesn't end with me, Sam our VP of Programs is one of the co-founders of the Ready Set Pwn podcast that covers local esports in Vancouver, Jean our Program Coordinator is an active streamer on Twitch, and Madeleine our Operations Coordinator has had a lengthy career in esports. It was bittersweet news for us when Madeleine informed us that her time at Launch was coming to an end because she decided to shift her career back into esports. We've had a great time working with her these past few months and are excited to see her dive back into what she really loves, esports.
I felt a fitting last task for Madeleine and me to work on would be to collaborate on a blogpost about esports. The following is Madeleine's perspective on the current and future state of the esports industry.
Madeleine:
There is one thing at the top of everyone's mind right now. Among the general chaos and uncertainty, you've probably seen these headlines:
NHL Suspends Season
NFL Cancels 2020 Draft Event
MLB Calls Off Spring Training
MLS Sidelines Games
NBA Suspends Season After Player Tests Positive for Coronavirus
As COVID-19 continues to sweep the globe, the whole world seems to have ground to a halt.
Except for esports.
While esports events haven't been unaffected with in-person events also canceled left and right, the industry has proven to be incredibly resilient. On March 17, after a brief pause, Riot Games announced across multiple regions that they will continue to play their League of Legends regular-season games from a fully remote set up.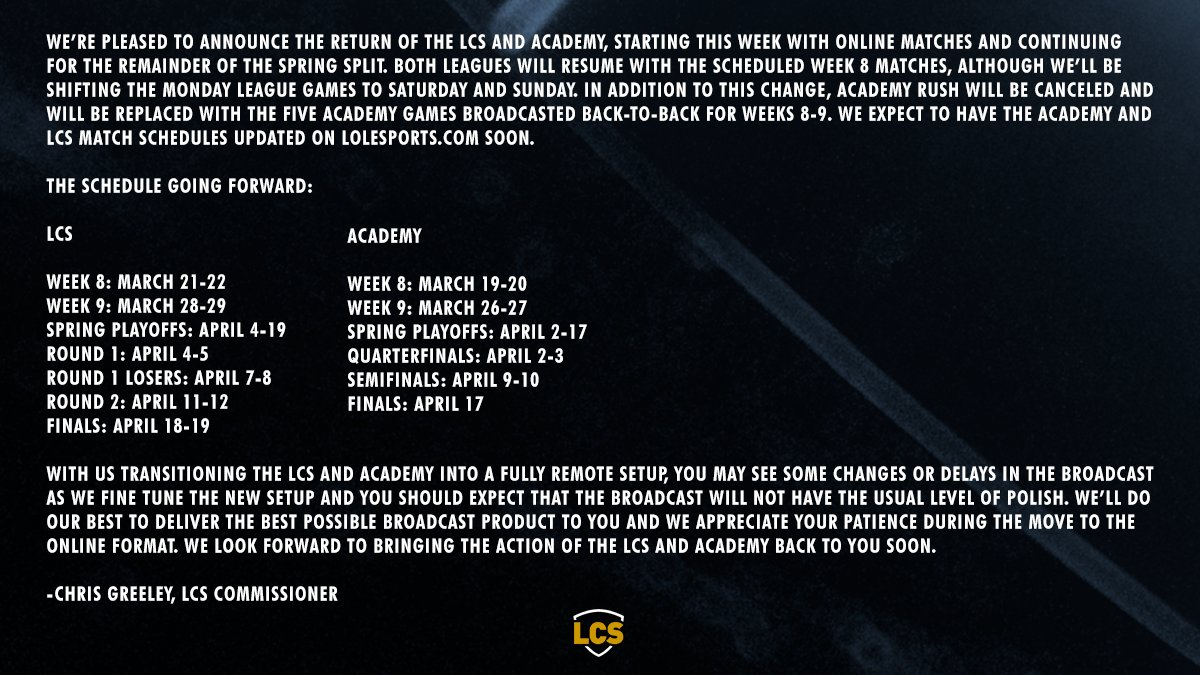 Likewise, while Activision Blizzard's Overwatch League and Call of Duty League in-person homestand events have been canceled in March and April, the Leagues will continue in an online format.
"Online play allows us to prioritize the health and safety of our entire community while still continuing to bring fans high-quality entertainment and competition," they said in an official news post.
Not everything went according to plan. As you can imagine, taking a full professional broadcast and moving it into individual staff members' homes is not easy. As a result, the Overwatch League ended up postponing another week. The League of Legends European Championship (LEC)'s Twitch broadcast on the first day back faced many technical issues with some teams not being able to connect to the games properly, and laggy audio and gameplay. Casters found themselves filling a lot of empty air time.
Despite the pitfalls, viewership did not take much of a dive, and fan sentiment was mostly understanding and positive. The following day, the LEC and their North American counterpart's broadcasts went off mostly without a hitch, with only minor hiccups.
Today, you hear about the esports industry potentially being worth billions. Some of the top esports have prize pools worth several million with Dota 2's "The International" topping the charts with a whopping $34,330,068 in 2019.
But it's taken a long time to get here. In many ways, esports is still fighting an uphill battle, but they are steadily gaining ground through both the quality, quantity, and accessibility of gaming content creation.
Platforms like Twitch, Youtube and Mixer are a hotbed for gaming. Being able to stream from anywhere to anyone for free has expanded the reach of many individuals and companies, and exposed consumers to a wide variety of content.
In fact, while television may be the medium of choice for lots of the older generations, this Defy Media survey shows that for 13–24 year-olds, YouTube is a "must-have," meanwhile only 36% of those consumers pay for traditional TV.
CNBC wrote in an article, "The members of Gen Z have all but abandoned traditional television viewing, opting to watch shows, movies and other digital content on their phones, tablets, and laptops."
This also proves to be a significant problem for advertisers who help fund content and media. Not only are Gen Z and millennials not being exposed to where ads are being shown, but they are also averse to most ads they do see.
"84% of millennials stated that they did not like traditional marketing and, what's more, they didn't trust it," says Forbes. That being said, "a study from Defy found that "58% of young viewers don't mind watching ads to support their favorite digital personalities… Up to 89% of respondents said that 5-second intros featuring a sponsor are mostly fine with them, while 87% do approve product placements in videos e.g. when an influencer demonstrates a product or shouts out to a sponsor.
…Adweek also published a study in which 57% of millennials state they are willing to view sponsored content from a brand as long as it includes authentic personalities and is entertaining and useful."
It's no wonder then that esports and live streaming is changing the way content is being created, and attracting big-name non-endemic sponsors like Coca-Cola, Nissan, Nike, Bud Light, and more.
Erich Marx, director of Interactive & Social Media Marketing at Nissan North America said: "Esports is very innovative, and that fits perfectly not only with Nissan products, but our marketing strategy."
The social aspect of esports is what makes the industry so appealing and scalable. You don't need a field or net to play games. You don't need people in the same place, and with the rise of mobile games, you don't even need a console or computer to play. Esports is for everyone.
If you want to take a look at the unintended impact COVID-19 is having on certain industries, music festivals have taken a page out of esports' book. One example is Insomniac Events who brought Beyond Wonderland to Twitch and Youtube. The "virtual rave-a-thon" live-streamed several DJs to tens of thousands of viewers over the course of two days.
I watched this stream alone in my room while chatting in Discord with some friends and the 25,000 others who also sat alone in their rooms, and it was a bit of a surreal experience to say the least, but it was a lot of fun. It may not be the same as jumping to the beat, shoulder to shoulder in a crowd, but who's to say we can't do both when all this is over?
The trend is gaining traction with Lady Gaga hosting a virtual festival on April 18th.
All I have to say is if you're not a fan of esports yet, now may be the time to start. There's a lot to learn from here.
Ray:
I think Madeleine's perspective on esports is spot on. The Launch team is happy to have gotten to work with Madeleine these past few months and are excited for her to jump back into the esports world. The Launch team wishes you the best Madeleine and we look forward to catching up with you on your Animal Crossing island.