Life After Launch: LunaVR
In an ongoing Life After Launch series, we interview various alumni about how they're doing and what they have been up to since their time at Launch.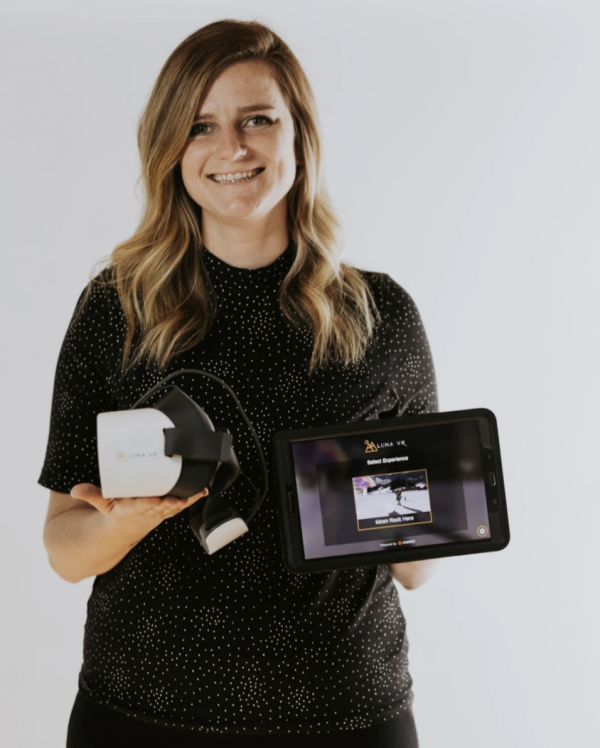 Who are you?
My name is Naomi Van Halteren. I am a registered nurse who is trying to make a difference in the health tech world.
When did you join / leave Launch?
I joined Launch in June 2019.
Are you still working on the startup you were at Launch?
Yes! Launch was a great place to be encouraged, inspired, and when I was starting my company, it gave me a routine to get it going.
What does your company do?
We use virtual reality to help change the way people see and feel needles, specifically vaccines. I started this company because I saw a critical need to help make the immunization experience more positive, especially for kids.
How is it doing?
Great! We are currently in North America, Europe, Australia, and starting in Brazil. It is exciting to see that we can help kids and adults no matter what their background. Needle fear is a global issue, and I believe we can help change that fear with our incredible technology.
Other than the Launch team, who do you still keep in touch with from your Launch days?
Other entrepreneurs! Launch introduced me to incredible individuals working in all aspects of startups and businesses. The launch colleagues I met are instrumental in my mental health for continuing my company. As a startup, life is HARD. Launch helped introduce me to people with a variety of expertise in which we all help encourage, support and educate each other.
What was the biggest lesson you learned during your time at Launch?
That when you look at a person, you have NO idea what they know, are capable of, and have been through in life. The startup/ entrepreneur background can connect you at Launch, but the connections that grow outside are unique and lead to amazing opportunities.
What is one piece of advice that you can pass on to fellow #launchcrew members out there?
Keep going. Give yourself a break. Focus on why you started. Breathe. If you can do the last one… life is good.
How did Luna VR start?
I was diagnosed with Type 1 diabetes at age 11. At age 24, I suddenly could not speak, read, or write after a nursing shift and was diagnosed with multiple sclerosis. I am a human pin cushion and have had over 35,000 needles in my life. I became a vaccine nurse because I am INCREDIBLE at needles and wanted to help keep the public safe. I was horrified by how many adults were scared of needles. They all seemed to have the same story; "My first doctor's experience as a child, I didn't know what was happening, and then I was STABBED and have always been scared." With research, I found that 22% of adults are afraid of needles, leading to avoidance of healthcare, vaccines, and giving blood. I tried VR one day and thought, this could help people. And as all crazy entrepreneurs do… I quit my job and went for it.
How is Luna VR impacting healthcare?
If we can introduce kids to vaccines and healthcare in a more positive way, we enable them to cope with medical procedures in the future more positively. As a nurse, if an adult is terrified, we have to call for backup, use extra supplies, and lead to anxiety and stress. We are helping to save time, energy and money for everyone involved in immunizations.
How has VR impacted healthcare?
VR has been studied in healthcare for over 20 years. It is an incredible tool that can help train professionals, provide practice with no risk, decrease errors and calm and educate patients. With the advances in VR, we are fortunate to be living in such an exciting time.
How has COVID-19 affected Luna VR?
COVID-19 at first halted some of our demonstrations and new clinic set up/ activations. COVID-19 has drastically shown the world how vital herd immunity is and why vaccines are critical. With the stress and anxiety around our global reality, we hope to help make the solution of immunizations worldwide better.
What's next for Luna VR?
Always looking to grow, expand, learn and help others. As with everyone, we are continuing to figure out what this new reality of life in a pandemic means. For the economy, socially, family-wise, and as a startup, we are going with the flow of it all (very Vancouver of us).
What else is new?
Well, I am working from my 90-year-old grandmother's farm in Northern England at the moment. Unfortunately, my Grandad died this July, and I came to help my grandmother get settled, take care of her, and organized. So on conference calls, sometimes sheep love to chime in. That is DEFINITELY new.