Top 7 Recruitment Tips for Startups with Andy Hu
Andy Hu believes recruitment is one of those industries where you can make a difference not only for your company but also for candidates. Jean Yoon & Sam Chan sit down with Andy in the latest episode of Bits & Bytes to get the inside scoop on candidate green flags, hiring tips for startups and more!
Someone who has been in the tech industry for a reasonable period of time knows that the tech talent crunch is real, especially if you are a startup looking to build a team from the ground up or a founder looking to expand their business. 
As most businesses are undergoing a digital transformation in the COVID era, recruitment policies and strategies have also evolved. A lot of remote work opportunities have opened up in the tech industry and the hiring managers are scampering to set up Zoom interviews while navigating different geographical boundaries, cultures and time zones. 
Technical recruiter Andy Hu explains the key factors that a startup company needs to consider when trying to hire the right candidate:
For founders who are looking to hire for their startup, research is key. Connecting with an industry expert on LinkedIn, or with someone who has prior experience recruiting or hiring in the field you're interested in will allow you to leverage their experience to help with your search.
2. In-House Recruiter vs Staffing Service vs Contract Recruiter
Deciding which resources to utilize when searching for candidates depends on your budget, resources and time. 
In-House Recruiter –

An in-house recruiter sources candidates for multiple roles within the company.

Generally for a startup company, hiring an in-house recruiter can be expensive and unaffordable
Staffing Service –

Hiring an external staffing service could make your life easier and work out to be the most cost-effective choice because you don't pay anything unless they hire someone for you. 
Contract Recruiter –

If you have 5-10 roles available to fill over a few months, then you could consider hiring a contract recruiter who comes in on a three to six month basis. With a contract recruiter, you can also test out and see if bringing someone in-house actually works for you. 
Company culture plays a vital role for a candidate who is looking for a job. For a startup company, the culture should be established from the top down. The founder(s) of the company  — and the subsequent hires — will formulate the culture in the long run. Whoever you bring in not only has to fit into the culture but also strengthen and grow it. General company guidelines should be established early and match the long-term vision of the company. 
4. Don't Try to Fit 2-3 Roles Into One
It is really important to identify the scope of the job. Define exactly why you need to hire and for what position. Establish the scope of the role, either through research or by just looking at other companies in similar roles. Andy explains, "To appeal to candidates, you have to be able to effectively communicate the highlights of the role."
5. Provide a Competitive Remuneration Package
There are many resources such as PayScale, Glassdoor, or Canadian Government's Job Bank where you can find out the National Occupation Class (NOC) descriptions and data which will give you an idea of what the general scope of salaries for that specific position. Making sure you communicate with candidates about their expected salary range will also help with this process.
Try not to fixate on salary alone because that's not enough to get someone through the door. These days, candidates are looking for more than just pay, they're looking for benefits such as health insurance, mentorship, opportunities for growth, remote work opportunities, flexible schedules etc. "Although salaries are important, you have to also keep in mind that there's a variety of other factors that determine whether or not you have a competitive package."
6. Source the Right Candidate
Once your salary scope has been established, it comes down to sourcing to find the right fit. Before putting the job post out on job portals, start from the basic but the most useful source – your immediate circle of influence including your friends, family and loved ones. Get the word out, chances are these contacts might already know someone who might fit in to the role and company at large.
Entry-level (0-3 years experience):

Establish the demographic you are targeting first, if you are looking for interns or people with experience between one to three years, your best bet is to start with universities, colleges, and connect with their co-op advisors or career services department. If eligible, you can get support from The National Research Council of Canada with the

Youth Employment Program that offers financial assistance to offset the cost of hiring young talent to work on projects with R&D, engineering, multimedia or market analysis components or to help develop a new product or process.
Mid-level (3-10 years experience): If you are looking for professionals with 3 to 10 year experience, you would have to do a little bit more headhunting. Either from within your network or via LinkedIn. For a technical role, you could look at GitHub, which has a lot of repositories including Boolean searches which allows you to search using specific keywords to filter candidates and find more accurate and relevant results.
Senior-level (10+ years experience): If you're looking for more senior roles such as a manager, CTO, or director, it is better to connect with industry professionals, entrepreneurial circles, or you could do an executive search. A staffing service company can also be used to help you find the right fit. The initial cost to hire via staffing agencies will pay itself in dividends because you brought in the right person.
7. Look for Interview Green Flags
Although every requirement is different, Andy lists down his general top 3 green flags that he looks out for in a candidate. 
Strong communication skills

– Regardless of the role, the candidate is going to be communicating with stakeholders, teammates, project leaders, clients and customers.
Genuine intent –

Look for a person who has a genuine intent and interest in the job and the company.

It's a waste of time on both ends when you come across someone who is not genuinely interested, "It's very evident."
Friendly –

Ideally you need someone who you can connect with on a professional level and also have a casual conversation. "They don't have to be extroverted, but at the very least, they're friendly, because once again, you're working with people."
Once you have identified the right candidate, be quick to communicate, offer and welcome them into the team. "It's no longer a company-driven market. It's a candidate-driven market, because there are so many options for candidates these days, if you drag your feet, someone else will snag them up."
Hear more from Andy in the Bits and Bytes Podcast to find out how recruitment is much more than just a gut feeling!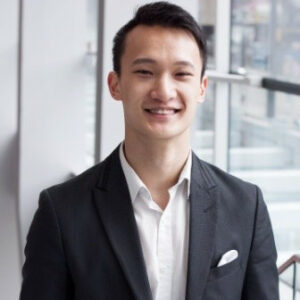 Andy Hu graduated from Simon Fraser University with a Psychology major and a business minor and has worked for several companies including Keywords Studios, Unity Technologies, Robert Half Finance & Accounting and TEKsystems. Andy initially stepped into technical recruitment as he was fascinated by the tech realm and believed that programmers are like magicians who can create something out of nothing! ​
Connect with Andy on LinkedIn.