"I Could Benefit the Entire Education Industry Through Technology" — Esther Szeto
Working as a teacher in inclusive schools for over 20 years, Esther Szeto noticed a lack of communication between students, parents, and teachers. "What if there was a program similar to Slack that could connect everyone," she thought. That is how EZGage Education Technology Inc., a platform for students with special education needs, was born. 
First Career Shift and Startup Experience
In the early 2000s, Esther Szeto, a marketing executive from Hong Kong, decided to change her career path and become a teacher. After earning a second bachelor's degree — this time in Fine and Studio Arts — she landed a job at an inclusive school.
In addition to working as a teacher, Esther co-founded a learning centre, Focus Kids, that prepared kids for elementary school.
"The education system in Hong Kong is one of the most competitive in the world," she explains. "This competition starts from an early age, so 4-5-year-olds need to be self-confident and willing to express themselves in order to get through the selection process and get to a good elementary school. At the centre, we tried to teach them all of that."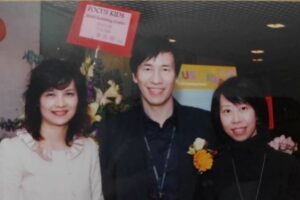 The opening of Focus Kids, the multi-learning centre in Hong Kong. Esther Szeto (on the right) with her business partners
While the centre showed promising results, it wasn't easy to handle both responsibilities. "We ran this business together for four years, but due to my busy schedule, I decided to quit and focus on my full-time job."  
Communication Gap That Brought a New Idea
Working with children with special needs at school, Esther felt that the education system had some weaknesses. As students studied only 5-6 hours a day in the classroom, teachers didn't know exactly how their students spent the rest of their time at home. 
"Students with special needs require routine and consistency. Teachers have to make sure that the learning process they practice at classes can continue at home, but this responsibility shouldn't be only on their shoulders. Parents, teachers and additional specialists such as speech therapists must work together as a team.
I asked myself, can technology help improve this communication? Also, I thought about all the documents we could put into the cloud instead of physically passing a folder from one teacher to another. For example, imagine students moving to a new school or another country. We could just log in to the computer and immediately get access to all their previous records.
Instead of helping a small number of students, I could benefit the entire education industry through technology."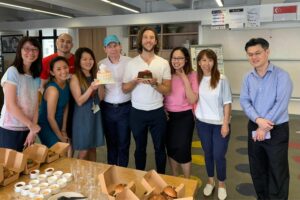 Esther with her school colleagues in Hong Kong. Although she enjoyed teaching, Esther felt that launching an EdTech product can provide her with more opportunities

Building a Slack for Schools
The existing programs, such as Slack or Discord, popular in the tech industry, seemed too complicated for parents and teachers. During the pandemic, teachers began adjusting and opening mindsets toward technology which gave Esther a feeling that it was the right moment to build her own user-friendly platform where teachers and parents could share documents, a school calendar, or any updates while students use it for multidisciplinary learning. This time she was ready to quit her teaching job, and the story of EZGage started. 
While developing the product, Esther reached out to experts from the industry which led her to form a remote team consisting of Special Education Needs (SEN) teachers from Canada and Australia and a German-based developer. However, she didn't consider launching the startup in Hong Kong, notorious for its high-stress education system. Instead, her priority markets were Australia and North America, both known as pioneers in terms of inclusion and special needs education.
After weighing all advantages and disadvantages, Esther finally chose the Canadian market for the focus on the well-being of individual students and various funding options from the local government.
After researching various tech incubation programs in Canada, she finally joined Launch's Maple Program and has recently landed in Vancouver.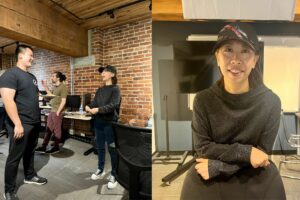 Esther is participating in one of the networking events for startup founders at Launch Academy's office
Currently, the team is testing the platform among a group of parents, teachers, and therapists across Hong Kong, Canada, the USA and Australia to enhance product features. Esther plans to launch a mobile version at the beginning of 2023 and pitch the platform and app to Canadian private schools.
"I've never met any challenges as a female founder. In fact, it was quite the opposite, and everyone was supportive. The only challenge was leaving my comfort zone. But, if you have resilience and insist on trying, the results will be there."
For more information about EZGage Education Technology Inc., visit: ezgage.org. You can reach Esther on LinkedIn.
For more information about the Maple Program, visit: launchacademy.ca/maple.