Creating DiamondHandBag a Digital-First Luxury Fashion Brand — Angel Pui
From creating a marketplace for weddings to launching a digital-first luxury brand, DiamondHandBag, Angel Pui, our guest from the latest episode of Bits & Bites podcast, has always had an eye for new entrepreneurial opportunities in the market. 3x VC-Funded Tech Founder, Head of Strategic IP Partnerships at Big Head Club, and Launch mentor, shares how her passion for computer science and fashion led her to web3.
From Computer Science to Studying Fashion in London
Angel was exposed to engineering and entrepreneurship as a kid: her grandfather ran a factory in China while her dad was a computer mechanical engineer. In seventh grade, together with her dad, she developed the programmable joystick for Street Fighter, and later, sold it to Logitech and Alienware. 
"I was one of those kids. I would run scripts when I was playing my mud game. …I did very well in school — until I hung out with the wrong crowd, a bunch of girls who said: "Oh, you don't want to be in computer science, do you? That's for boys." Since Angel was creative, they encouraged her to choose fashion instead of computer science. Angel's parents were so disappointed that they didn't speak to her for years.
Meanwhile, she went to Central Saint Martins, London's internationally-renowned center for arts and design education. After finishing the two year program, fresh graduates could get unpaid internships to start their careers in the industry. However, it wasn't an option for Angel, who had to pay off her student loan and manage living expenses. 
"I was literally eating canned tuna and 7/11 crackers. I was that poor. …so, instead of an unpaid internship, I moved back to Vancouver. Here at the time, there were just brands such as Aritzia and Lululemon where  you could apply. As I was very much about Haute Couture, I couldn't do any of that stuff. So I started sewing wedding dresses." 
Apart from sewing dresses, Angel started working at Holt Renfrew and building coding websites for clients on the side. Precisely at this moment, she got her first startup idea.
Online Marketplace for Weddings and Lessons Learned
Working with brides, Angel often noticed their stress around planning their weddings. To solve this problem, she decided to create a personalized planning and booking service where clients could choose vendors, upload guest lists, and manage budgets. "At that time, I didn't even know what a startup was because I didn't go to a tech school. So I was just in my basement doing my coding thing." 
After launching the prototype, it got featured in the InStyle weddings magazine, and Angel got her first clients. In one of the meetups, she met Mike Tan, an entrepreneur who was working on TeamPages, a SaaS Sports Management Platform. He introduced Angel to Boris Wertz, one of North America's top early-stage tech investors and the founding partner of Version One Ventures.
"It took me a year and a half to finally get him to say yes to my funding." Other than the funding, Angel made sure that she received Wertz's mentorship and office hours. "For the first two years, I had my desk right up against his in the same room with the door closed. I could hear all his conversations, all the founders that came in to pitch were sitting next to me… It was the best experience to be so close to an amazing investor…and learn everything I could about a two-sided marketplace."
From 2010 to 2012, Angel's startup, Weddingful, was successful in Vancouver and Toronto and had 70-80% of the market, but she realized that it was a complex business to scale. User retention was tough in the business as clients would never come back again after the wedding was over and user acquisition was really expensive. "So every year you had to start from scratch."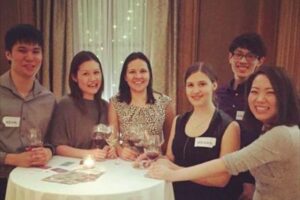 Running a New Startup While Raising Two Kids
Angel's husband worked in pharmaceutical sales. One day, he got the same disease he was selling the drug for. "While this medication was a good option, there were better ones coming out in the pipeline, meaning the drug is being developed in a clinical trial, but not quite out in the market for a patient to experience." As an entrepreneur, Angel wanted to find the best solution.
In 2016, she started working on Discover Therapies, a digital health startup, together with her husband. It was a three-sided marketplace connecting patients, clinics, and pharmaceutical companies so patients could access all treatment options and clinical trials. 
In the same year, the couple had their first child, and 20 months later, their second one. "There's no strategy, there was a baby crying: it's your turn, it's my turn. Luckily, you know, my husband and I are quite flexible. We're getting shit done kind of people." 
In 2019, one of their clients acquired Discover Therapies, and Angel and her husband decided to take a break from entrepreneurship. 
Creating a Luxury NFT Collection for the Next Generation
While Angel's husband started investing in cryptocurrency, she began collecting handbags. Her idea was quite simple: some luxury bags cost 10,000 USD, and some people sold them for more than 20,000 USD. It looked like a money-making investment, not an expense. 
"I would track when that Birkin 25 Black Togo Gold Hardware would be listed at what price and how many days it took to sell. I started having this massive excel sheet with 6,000 rows of data. That's how I knew the best price I should buy it at." Angel had started flipping handbags at scale.
Her friend, Tiffany Black, the former head of product at Pinterest, got Angel into NFTs. In 2021, she joined Big Head Club, a Vancouver-based NFT studio, as the Head of Strategic Partnerships. 
While exploring existing NFT projects, Angel realized that they weren't resonating with her. "I thought, what if there were handbags? What if there were non-profile pictures of digital goods that you can flip, collect, buy, and sell?" This idea turned into DiamondHandBag, a luxury NFT collection for the next generation. To learn more about it, check out the full episode.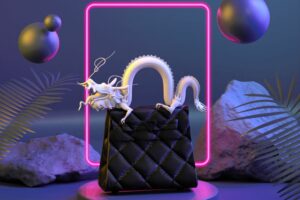 "We're empowering womxn to understand and love NFTs through a digestible and fun medium — handbags as references back to what we already love"