When 'Afternoon T' met 'Bits & Bytes' – Chris Hobbs
Chris Hobbs believes that Vancouver's talent has the potential to lead the way in Canada and build some of the greatest and the most impactful products that the world can see. Launch's Jean Yoon & Sam Chan sit down with Chris in the latest episode of Bits & Bytes to get his perspective on creating meaningful connections through technology, building cool new products and more! 
"We create softwares that impacts a billion lives", TTT Studios' vision fosters innovation, impactfulness and long term value. Led by Chris Hobbs and fellow co-founders David Hobbs and Josephine Wong, TTT Studios is a Vancouver-based award-winning Digital Innovation Studio focused on building custom software for clients around the world.
'Money raised', 'revenues generated' and 'profits made' have traditionally been the metrics for success. However, Chris measures success by the impact that his company is able to make in somebody's life. Narrating a story to make his point, Chris says "During the early days at TTT, we created a very simple game using our totem cartoon characters. And someone from Ohio reached out to us asking to build the game on Android because his autistic son loved it and they only have android devices. Did we make money doing that? No. But did we make a difference in someone's life, Yeah!" 
TTT studios has evolved to make such impacts at scale by creating better processes, putting together a team which really believes in the values of the company and creating an innovation team with an entire focus on building the next cool product which is meaningful and solves a problem.  
One such cool product Chris and his team are working on is Shop Studio Live. A potentially 'disruptive' e-commerce technology which supercharges online store sales with live shopping. The software lets you overlay a live stream video, includes live chat, and featured products in your Shopify online store.
"The idea [of Shop Studio Live] comes from the love of my family's Korean roots. Live commerce is really big in Asia right now and there is a huge opportunity for disruption here in North America", says Chris.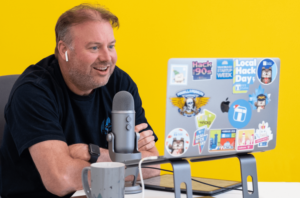 'Afternoon T' is a weekly podcast hosted by TTT Studios Co-Founder & President Chris Hobbs.
Although live commerce has made its way in some North American markets, the platforms available are not scalable. The transition from a regular e-commerce platform to live commerce is tedious. To tackle this issue, Chris and his team, under the supervision of Amer Abu-Khajil, Director of Product & Innovation, have created a solution which works on the existing platform bringing live shopping directly to an online store on Shopify. 
Live shopping lets you play an active role in the success of your online store while providing a unique online shopping experience for your customers. Through Shop Studio Live, you can greet your customers in real-time, interact and engage with them while they shop online – creating an urgency to buy and host engaging live shopping events. 
Although Chris graduated from the University of British Columbia in Russian & History, technology "runs in his DNA". From programming a simulation game called 'lemonade stand' on his grandmother's computer as a kid to being surrounded by friends and family who were working in the tech industry, "It's always been something I've always been very fascinated with. The curiosity that I grew up with has taken me to where I am today." 
Chirs believes that we all need to embrace technology, as every company is essentially a tech company these days. "Vancouver is an awesome place to do business right now." The key to becoming successful is to find what you love doing and keep improving. 
Check out the full episode of Bits & Bytes to find out the inspiration behind TTT Studios building their own facial recognition system Amanda AI, which took on Traction Conf 2019 in Vancouver and some inside tips on how you can join the team at TTT Studios!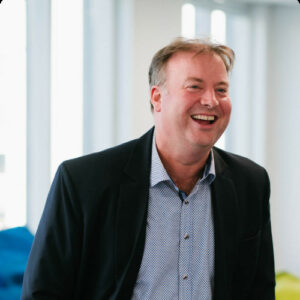 Chris Hobbs is the President & Co-Founder of TTT Studios, a Vancouver-based award-winning Digital Innovation Studio focused on building custom software for more than 200 clients around the world. Chris is a member of the Forbes Technology Council and a renowned name in the Vancouver tech community.
Chris also hosts 'Afternoon T', a weekly podcast to chat with Canada's successful founders to share their lessons and to prepare the next generation of startups. Connect with him on LinkedIn.